Join us Thursday July 25th at 5pm for delicious TAMALES!! Alllll Tamale donations will go straight to the Scout troops in Weston. And for the first time ever we will be serving MARGARITAS at the Tamale Party. OLE ❤️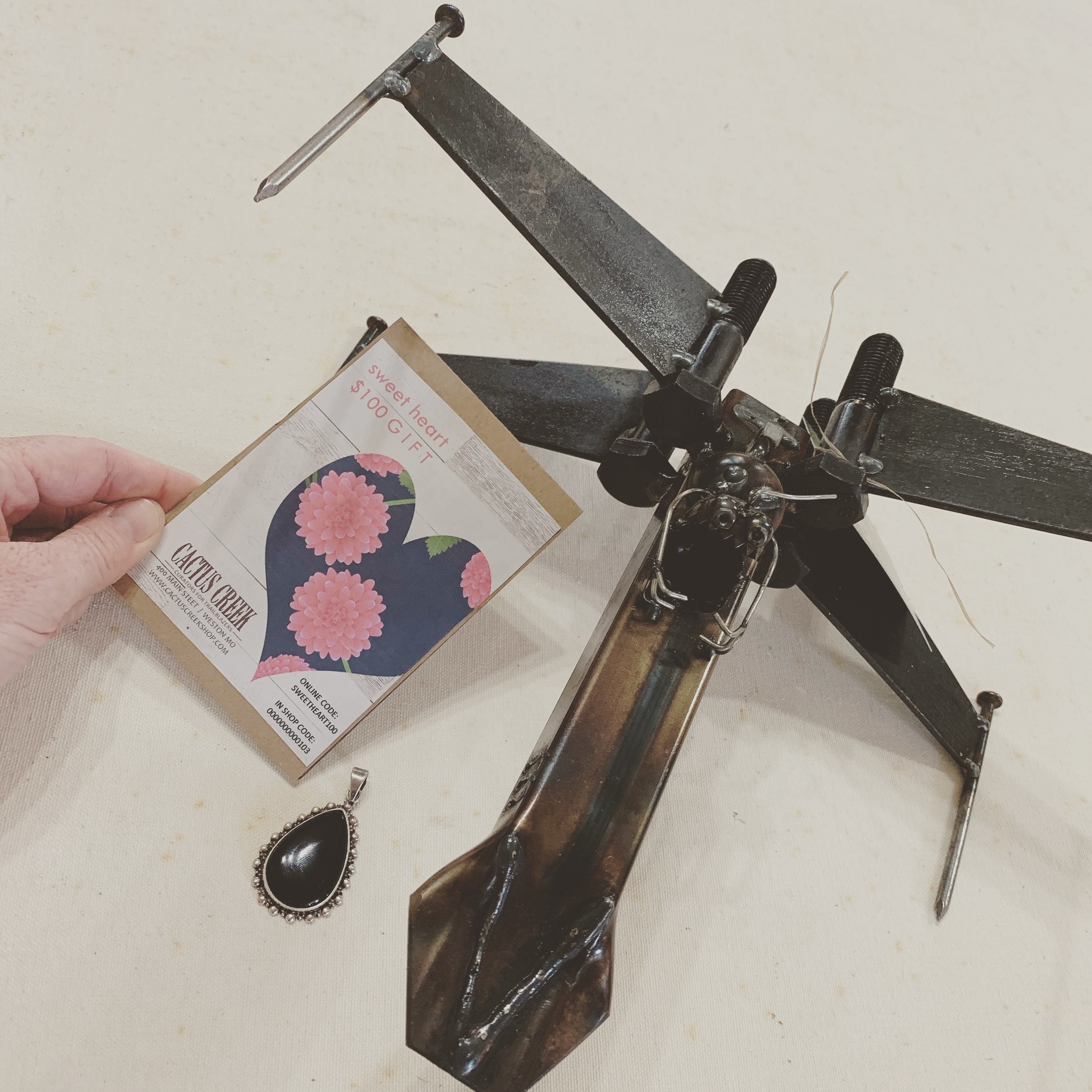 RAFFLE PRIZES for Thursday night's TAMALE PARTY!! $20 for 5 tickets means you can win more than one prize....
—> Metal Tie Fighter Pilot from Back Roads Art
—> Onyx + Silver Pendant from R. Alan Macey
—> $100 Gift Card from Cactus Creek
—> ALL monies go to Weston Scouts
.
.
#cactuscreek #tamaleparty #raffleprizes #boyscout #girlscout #cubscout #fundraiser #tiefighter #metalsculpture #onyx #pendant #silver #thecellaratcactuscreek #beatrailblazer
Next Tamale Party : Thurs July 25th, 5pm - 9pm
Benefiting : Scout Troops of Weston
Why it matters : WHAT THE BOY SCOUTS OF AMERICA MEANS TO ME
I've been a leader and involved with the BSA for over 19 years now. I've watched socially awkward children make friends that they otherwise would not have made. Many of those friends remain friends for life. I've seen introverted boys grow up learning integrity and character and become young men of leadership. Children and teenagers going through this program will experience diverse activities both in the classroom and in the outdoors that 90% of other children will never be exposed too. It takes you places not many have been and gives you a better appreciation for the world around us. I've witnessed men and women dedicate hours and hours of their time, money, and energy to carry on a program, not just for their own children, but for the betterment of the community.
Look and think about what the Scout Oath and the Scout Law teaches our youth and you will quickly realize the value of the program. It is one thing when a parent teaches their child these things, but it is something of even greater impact when an entire group of leaders and older Scouts are not only teaching these principles, but leading with them by example.
Lord Baden Powell, The founder of the Scouting movement, in 1917 said "Scouting is nothing less than applied Christianity". Looking at it now, it seems so simple a concept, but what a magnificent cornerstone to use and teach with, all disguised as having fun!
I wish everyone could have the opportunity to experience and appreciate the BSA like I have. I am incredibly proud of my oldest son making Eagle Scout and appreciate every meeting and activity that I get to spend with my two younger sons as the follow the trail to Eagle.
Yours in Scouting,
Brandon Hamilton
Assistant Scoutmaster
Troop 249
Weston, MO
TAMALES ON THURSDAY benefiting Scouts ❤️
From my friend Kate who's son is a Weston Scout.... As a single mom, scouting provides a way for my son and me to bond outside of our "norm". It pushes both of us out of our comfort zone. As a result, I've seen him grow and flourish in ways he wouldn't have without scouting. As he's grown in Cub Scouting, I watch him become more of a leader and more comfortable with outdoor activities and camping. None of this would have happened without scouting.